MENLO PARK, CALIF. (August 30, 2023) – Underwriting profitability requires that organizations maintain focus on risk selection, pricing, portfolio management, and policy coverage(s). These components of underwriting success rely on a strong data-driven technology stack and a strategy that harnesses powerful data for informed and quick decision making. Underwriters have a breadth of datasets, tools, and analytics at their disposal to ensure the underwriting process fits within company risk appetite and guidelines yet existing tools consistently fail to deliver business interruption (BI) risk intelligence. According to a 2021 study by Swiss Re, there was a $113 billion protection gap for business interruption risk in 2020 alone.
With One Concern's Business Interruption Risk Scores, underwriting teams can improve their management of BI risk. Powered by One Concern's AI-driven downtime and recovery model technology, we provide a DominoAI API for quantifying inside and outside-the-fence BI risk by classifying a risk into three categories of low, medium and high. Depending on risk appetite, One Concern's BI risk scores can facilitate risk selection decisions, influence the amount (or type) of BI coverage, improve portfolio impact analyses to manage aggregation risk, and allow for premium adjustments, amongst others.
Carriers can explore a BI view of risk across perils, climate change scenarios, interruption types or opt for an integrated view. In addition to scores that are easy to consume into underwriting workflows, One Concern makes the raw downtime values available to support custom views of risk. Below are the different parameters available for carriers to pull into their underwriting process and start capturing business interruption risk intelligence scores.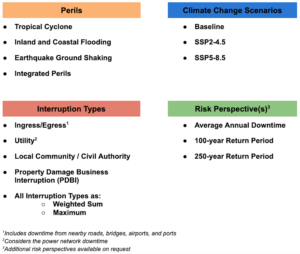 Applying One Concern Business Interruption Risk Scores 
Let's take a quote currently under review for a distribution center in Savannah, Georgia. Traditional catastrophe model and risk analysis tools inform the underwriter that the facility is located outside the 100-year flood zone and is 12 miles from the coastline. As such, this facility has low hazard risk and therefore, low business interruption risk.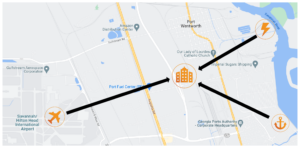 One Concern exposes a completely different story: Immediately, the underwriter sees that the integrated business interruption risk score for this location is HIGH. Digging deeper into the metrics from the One Concern API, the underwriter learns that the substation this facility draws power from is located near the Savannah River and has an average power downtime of 12 days for a 100-year hurricane event. The property damage business interruption (PDBI) risk is low as it is unlikely floodwaters would enter into the facility, however, a period of extended power outage is likely. 
This distribution center and its operations partially (if not completely) depend on port/airport operations, whose estimated downtimes are greater than 8 days for these facilities. 
These critical aspects of business interruption risk are completely unaccounted for by a traditional catastrophe model or any model that does not consider dependency risk. This policy, if underwritten without thorough review of the hidden BI risk, may be subject to a significant BI claim. Armed with BI risk insights, the underwriter can choose to reject this policy on the grounds of the potential business interruption risk, adjust coverages or pricing, or engage in a risk transfer arrangement to better reflect the risk they are willing to bear. Ultimately, the BI Risk Score APIs serve as a game-changer for underwriters, enabling them to optimize their profitability while effectively managing BI risks.
About One Concern
At One Concern, we are a climate resilience technology company dedicated to empowering organizations with actionable insights to address the impacts of business disruption caused by disasters. Through our analytics, we enable risk selection, mitigation, pricing, scenario analysis, and risk management. Our mission is to make disasters less disastrous by helping organizations understand and prepare for downtime from physical climate risks. We are committed to providing the world with the tools needed to effectively mitigate and manage downtime from such risks. Learn more about us at oneconcern.com.